Archive for August, 2009
We won a slew of Film Racing awards! The contest was in June, and I'd assumed we'd won nothing (or we'd have heard about it by now). So this is out of the blue and awesome.
Team BRING-ME-THE-HEAD-OF-DON-HOLMSTEN consists of: Wil Knoll, Rachel Gertz, Sarah Blue and myself. Blaise Kolodychuk and Ben Blue worked off-location creating music. And Travis Gertz got us to the church on time.
The award winning short "Do It Yourself", is about the emotional baggage behind the construction of a glass display cabinet. The cabinet, complete with fake mementos from the character's life still resides in Wil's apartment. The psychologists I've spoken to reassure me that while this is unusual, it is no cause for concern.
Our team name is due to an unfortunate event involving ex-team member Don Holmsten and "The Mixer". The Mixer's operator said "Keep your head, and arms, inside the Mixer at all times." But Don Holmsten was a DAAAREDEVIL, leaning out saying "Hey everybody, Look at me! Look at me!"
Best Film of the Calgary Film Race 2009
Best Direction (me!)
Best Leading Actor (Wil!)
Best Leading Actress (Rachel!)
Best Acting Ensemble
Best Writing (Wil!)
Best Editing (me!)
The Film Racing experience was a lot of fun, and we really enjoyed watching the other submissions. Most of them were crazy funny, and the wide variety of approaches use accommodate "a promise and a screwdriver" made each screening a new surprise. Head to the Calgary Film Racing 2009 Awards page to check out the other submissions.
So I'm adding a logo to Calgary's Protospace teaser video, and none of the YouTube thumbnails look particularly appealing. I don't want a split-screen of a hacker. I want a Protospace logo dag-nab-it!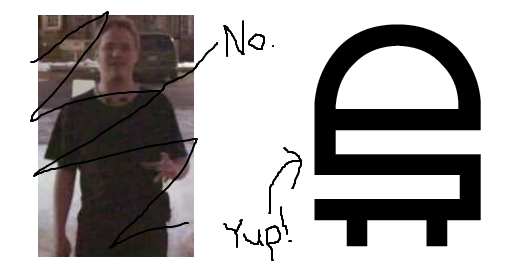 At some point in early 2009, YouTube stopped grabbing thumbnails from 1/4, 1/2, 3/4 positions in submitted videos. Thumbnails were being abused, with brief images of pornography and misleading images placed at 1/4 1/2 3/4 locations in uploaded videos.
I can't define pornography, but I know it when I see it. And Protospace logo ain't no pornography! The Protospace teaser is rendered at 29.970 fps (NTSC drop-frame). I added a frame counter to the video to locate the new thumbnail locations…
And confirmed what I'd heard when Googling the subject… the thumbnail locations are now pseudo-random!

Due to the "random" part of the thumbnail grabbing, it took me a few tries before a logo lined up with a thumbnail, but I did manage it…
…and then due to a medical condition the doctors refer to as "borderline stupid curiosity" I began adding frame counts to other videos, uploading them, and documenting YouTube's 3 thumbnail locations for each.
Notice that the TN (ThumbNail) locations are constant for extremely short videos, and become more pseudo-random as the video length increases. I wouldn't be surprised if an exact formula could be nailed down, but I don't see it.
If you can solve the pattern, or have more data points you'd like to contribute then please ping me. I can either add them by hand, or share editing rights to this spreadsheet. I suspect any pattern may have something to do with MPEG-4 and keyframes. Or maybe Dwipal Desai injected a bit of the pseudo into the random because he enjoys the thought of thumbnail seekers endlessly spinning their wheels… heck it's what I'd do if I were him!