Archive for August, 2010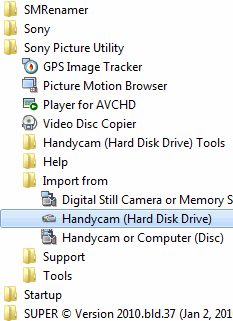 SONY included a utility with their HDR-SR1 camcorder for copying video clips from the camcorder's hard drive to PC hard drive. On many occasions I've needed to copy footage from my HDR-SR1 to someone else's PC. To do so without the Picture Utility sometimes causes grief…
On the HDR-SR1 drive, video files are stores as .MTS files, up to 2 GB in size. Filenames are automatically incremented as the camera records, so the 2 GB filesize limit is never crossed.
I've found SONY Vegas is picky about importing MTS files when filenames are auto-incremented. Usually they import, but sometimes they have not.
SONY Picture Utility addresses this, by combining the auto-incremented-filename MTS files into bigger-than-2GB .M2TS file(s). And, you have the convenience of having a single video clip, for any single video shot, instead of 2GB fragments.
Many of us have lost, or misplaced our software DVDs which came with our cameras. And unfortunately SONY does not offer this program for download.
If you somehow manage to come across a copy of SONY Picture Utility, I'd grab it just in case you ever have an .MTS file SONY Vegas can't read.
On August 12th, Calgary's mayoral candidates met at Holy Trinity Family Centre to compare their platforms, and answer questions posed by the local community. This footage is released under Creative Commons Attribution Share-Alike license.
This represents a slight alternation in the chronology of events, as originally each candidate was introduced by Wil Tigley, then each candidate was allowed to describe their platform, then each candidate closed by addressing 3 questions.
I've combined Wil Tigley's introduction with each candidate's description of their platform. That way the viewer isn't trying to remember what a candidate's bio is by the time they're finally speaking.
If this is a concern, the raw footage is always available on the Internet Archive.