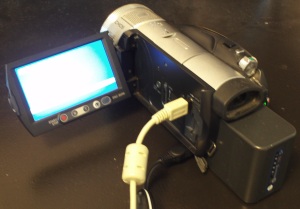 SONY HDR-SR1 records AVCHD video onto its hard drive as .MTS files. Because the video camera's 30 GB hard drive is using a FAT32 filesystem, if HDV video is recorded in chunks longer than 20 minutes, the size of that shot's data will surpass 2 GB. Since FAT32 does not support this, the SONY HDR-SR1 automatically increments the filename and starts recording data to a new file.
This results in a series of filenames on the camera such as:
  00000.MTS (2 GB)
  00001.MTS (2 GB)
  00002.MTS (last in series will be less than 2 GB)
When connecting the HDR-SR1 to your PC, you may be tempted (as I was) to navigate directly into the camera's video storage folder…
J:\AVCHD\BDMV\STREAM
…and simply copy those files onto your PC's hard drive. Vegas recognizes the .MTS files and will import them without complaining. Many video playback apps (such as VLC) understand that the MTS extension means video. Heck, what could be simpler than copy/pasting those AVCHD video clips right on into your computer… exactly where you want them?
Let me respond to that rhetorical question I'm pretending you asked with my own? How would you like a nice warm glass of FAIL?
My experience is that those .MTS files 2 GB in size are NOT always recognized by SONY VEGAS (including SONY VEGAS 8.0 including release 8.0c). The camera does not properly end the AVCHD data, and while the files may usually import into Vegas, such an approach will occasionally lead to…
Gimped frames at the end of your 2 GB video clip.
Vegas unable to import the 2 GB video segment at all ("unrecognized file format").
Vegas crashing when the file is imported (Vegas 7 does this, I have not seen it with Vegas 8).
Instead, be sure SONY PICTURE UTILITY is installed on your PC. It was included with your SONY HDR-SR1 camera, and once installed will automatically launch the "HDD Handycam Utility" when your SONY HDR-SR1 is connected to your PC.
This utility joins any multiple .MTS files which correspond to a single continuous shot into a single .m2ts file on your PC's hard drive.
Since the MTS files usually worked, it took me quite a while (and a few support tickets to SONY) to figure this out. Hopefully this post will accelerate that understanding for someone else.